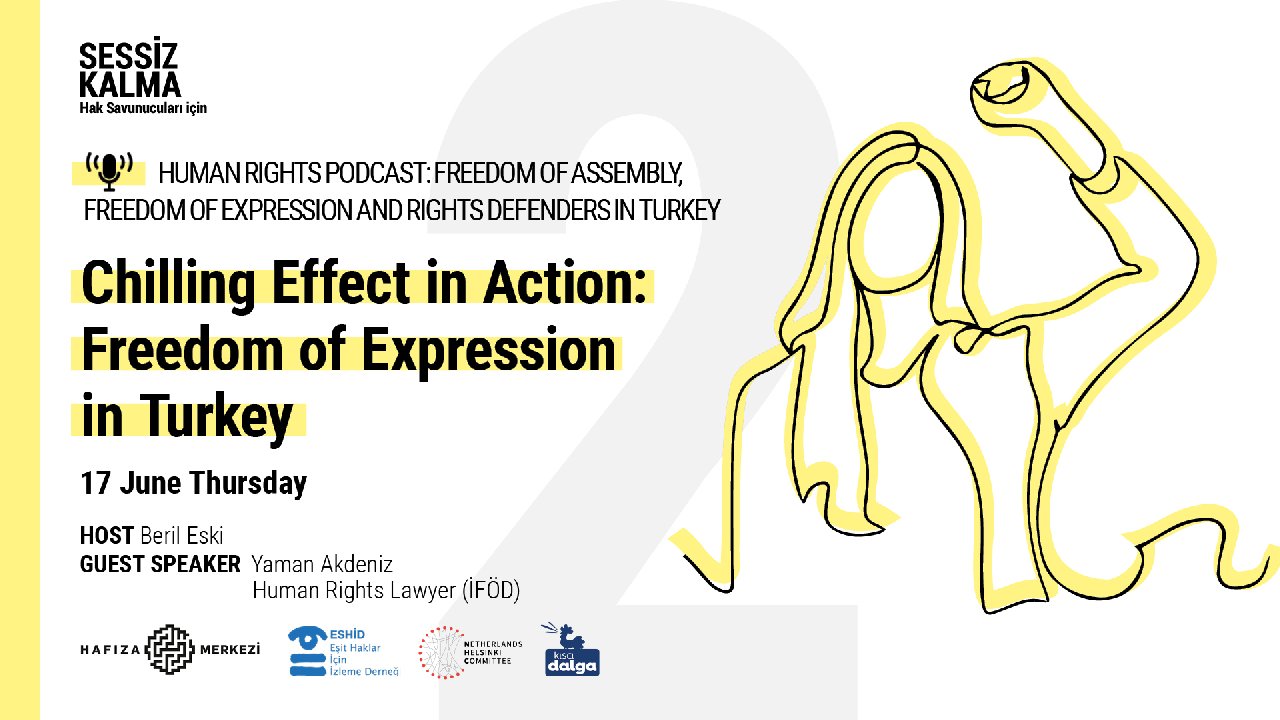 CHILLING EFFECT IN ACTION: FREEDOM OF EXPRESSION IN TURKEY
"Human Rights Podcast: Freedom of Expression, Freedom of Assembly and Rights Defenders in Turkey", a new podcast series by the Association for Monitoring Equal Rights, the Truth Justice and Memory Center, and the Netherlands Helsinki Committee, and in collaboration with Kisa Dalga Medya is launched!
In the second episode, "Chilling Effect in Action: Freedom of Expression in Turkey", moderator Beril Eski and law professor Yaman Akdeniz guided listeners through the concept of freedom of speech and how it is exercised in Turkey.


Emphasizing the importance of the freedom of speech, Akdeniz said that it is the bloodline of democracy:
"Without freedom of expression, there is no democracy, there are no democratic principles. Therefore, when your freedom of expression is restricted by the authorities, then that means you are not living in a democratic environment. Because you are entitled, especially in the arena of political expression and political speech, freedom of expression becomes more important because citizens, not just media or political commentators academics or civil society organisations but anyone, any member of the society should be able to criticize their government."



Akdeniz said that Turkey has a long history associated with censorship and the international studies and the European Court of Human Rights decisions show that the country is in a worrying situation. He also said that the internet has become the most important battleground for the government, especially after the Gezi protests when the government realized that especially young people can raise their voices on the internet:
"Since the Gezi protests, and subsequent to the failed coup attempt of 15 July 2016, everyone is under the risk of being prosecuted, investigated for small things like liking content on Facebook or retweeting or that you write something on a social media platform that only 1 or 2 persons liked. Turkey has become extremely difficult to express any opinion."
Sharing statistics, Akdeniz said that approximately over 450 thousand websites and over 440 thousand individual internet practices were blocked in 2020. Akdeniz also said that according to the recent statistics by the European Court of Human Rights, Turkey ranks the first country in the number of violations of freedom of speech with 387 judgements of all 925 judgements that are issued by the Court.
Saying that the problem of rights and related violation issues cannot be separated from the judiciary issues in Turkey, "Because, obviously, the judiciary is not independent of the executive and the governing bodies. And when you cannot talk about an independent judiciary, it becomes very difficult to talk about any rights, including freedom of expression and freedom of the press," Akdeniz added.